Project Overview:
Phase 1: Project began Monday, March 9th, traffic control and erosion control was set up. Roads will be closed starting Tuesday, March 10th for removal of asphalt and setting up of the dewatering equipment from USH 63 to Third and on Third down to Kansas. Underground work including water main, sanitary sewer, and storm sewer to begin Monday, March 16th. The first two blocks of Main Street through Third Street is to be completed by May 21st. The contractor is planning on working Monday – Friday from 7 AM to 8 PM. All work hours are subject to weather and the contractor will adjust to Saturday hours if needed.
Progress Since March 4th:
Removal of asphalt and curb and gutter are completed. Light poles are removed. Dewatering wells are installed and functioning. Road crossings and side streets are open. Crosswalks at intersections are ramped for pedestrians. Before the contractor leaves for the weekend, manholes and valves will be ramped and the gravel leveled to allow parking and traffic. The Main Street block between USH 63 and 2nd Street will be closed for the weekend, but the other blocks will remain open with only a gravel surface. From Hwy 63 to 2nd on Main street all the services are finished, working on grading and graveling the roadway in this area. The water and sanitary main lines were all into 5th Avenue on Main Street. Main Street itself remains closed to traffic.  Restaurants continue to provide carryout from the alleys.  Other businesses are shut down on Main street. Grading on 3rd street was completed-and will be open with gravel. Plan is to continue to grade and place gravel up the entirety of Main Street as services are completed. Concrete subcontractor will begin working on canopies and NEI will be starting on electrical work. Curb work will be started by the end of next week.
Weekly meetings will be held via conference all at City Hall each Friday at 8 AM.
Click here to read the full Business Owner Meeting Minutes from March 27th.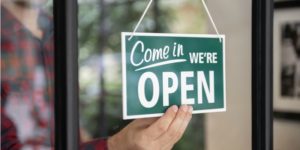 Please continue to support businesses in downtown Hayward during the construction project! Sidewalks ARE OPEN for pedestrian traffic currently, but you can check with individual businesses for alternate entrances as well. Updates for business hours can also be found on the Downtown Hayward Wisconsin page.
Public Parking is available in the Hayward Information Center municipal lot (corner of Hwy 63 and Main) and the Fire Hall municipal lot (Dakota and Second).