Hayward Gift Certificates are a great choice for any occasion as they give flexibility because they can be spent at ANY current HACC Member. These "Chamber Dollar" certificates are available Any Time of the Year and make a wonder gift idea for youth coaches, employees, friends, co-workers or any family member that enjoy spending time in the Hayward!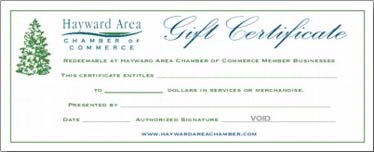 Contact the HACC at 715-634-8662 or stop by the HACC office at the corner of HWY 63 and Main Street to learn more about these HACC "Chamber Dollars"
How do Hayward Area Chamber Gift Certificates work?
Credit Card orders taken by phone Monday through Friday 9am-5pm
To make it the most convenient we can for these wonderful HACC Gift Certificates… We accept Cash, Checks, Visa, Master Card, Discover or will invoice your business if you are a current HACC member
Individuals/Businesses purchase any amount Gift Certificate from the Chamber Office
Gift Certificates are issued with a list of all current Chamber Members
The bearer can use the Gift Certificate at any Chamber Member Business
Business Member accepts the certificate the same as they would accept cash
The Chamber will reimburse the Chamber business for the entire amount of the certificate
It's easy, and it keeps shopping dollars local!
If you plan on purchasing a large number of gift certificates for your employees, family or friends� please give the Chamber office advance notice to prepare. Please fax or email a list of recipient names, and the dollar amount for each. Thank you.