Every December our Hayward Area Chamber of Commerce gives away over $3,000 in cold, hard cash!
Holiday Raffle Tickets make the perfect gift for employees, co-workers, friends, or anyone else on your holiday list… buy your tickets today at the Information Center located on the corner of Hwy 63 and Main Street.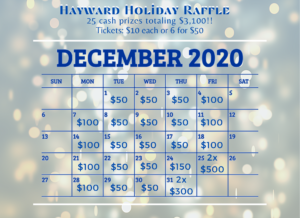 How does the Hayward Area Chamber of Commerce Holiday Raffle work?
Buy your ticket(s) anytime between now and December 30
If you win, your ticket goes back in for future drawings!
Drawings are held every weekday in December as noted on the calendar
Need not be a local resident or present to win
Listen to local radio stations or check the HACC Facebook page or this webpage to find out the day's winner
Contact the HACC at 715-634-8662 if you have any questions regarding the Hayward Holiday Raffle. Tickets cannot be mailed.